Hidden Gems Bangkok: Bangkok is loud, chaotic, hectic, crazy, breathtaking, funky, fascinating, unique, the hottest city in the world, one of the most popular cities in the world… Bangkok is… What's the best way to describe Bangkok in one word?
It is also often said that you can only hate or love Bangkok. But what is absolutely true is that Bangkok is polarizing. Admittedly, those who are in Bangkok for the first time will feel overwhelmed after a few days and would like to leave as soon as possible. I was no different then. But now I know the city very well and have finally learned to love Bangkok. Believe me, you too will love Bangkok when you get to know Thailand's capital for the first time.
This Bangkok guide is not (only) about the usual things to do, I will show you my personal favorite places in the entire city area. Get ready to get to know Bangkok from a completely different side, I wish you a lot of fun.
About the author: The author of this article with the best hidden gems in Bangkok lived in Bangkok for 3 months in addition to a number of tourist stays and got to know the city from a completely different side.
Getting to Bangkok – Do it like a local
It is relatively easy to get from the airport in Bangkok (Suvarnabhumi) to the city, as there are several options. The most convenient way is of course the taxi. If you like it more "authentic" and cheaper, you can take the bus connection from Bangkok Airport to the city. You simply need to follow the signs at the airport to the lower area of the airport grounds. From there, a free shuttle bus will take you to the bus terminal, from which a total of 12 bus lines go to the city.
Another option is the BRT (Skytrain), which is the fastest and most economical way to get to the city. The journey time is only around 20 minutes and costs between 15-45 baht. The problem here, however, is that the Skytrain only goes to the modern center and, depending on the location of your hotel, you may be forced to take a taxi or tuk tuk to cover the last few meters.
Stay away from the hustle and bustle of tourist areas
Admittedly, many people would hardly want to miss the comfort of a well-equipped hotel after a long flight. But if you want to live "authentically" and inexpensively in Bangkok, you can also find great options for a pleasant stay far away from the luxury hotels on Sukhumvit Road.
In my opinion, if you want to experience Bangkok from a completely different side, you should stay in a guesthouse or a typical Thai apartment. Inexpensive guesthouses are mainly found in the old town along Samsen Road Soi 1 and up. The laid-back neighborhood is not far from the tourist hustle and bustle of Khao San Road, but offers a completely different feel, more relaxed prices, and plenty of authentic Thai restaurants.
In the meantime, the area around Samsen Road is also becoming increasingly popular among travelers and more and more boutique hotels are settling here.
Chinatown is also ideal for people who would like to discover a different side of Bangkok. Most of the travelers choose to stay around Khao San Road or in the modern Sukhumvit area. Chinatown is often completely ignored. Above all, Chinatown Bangkok offers more than 1,000 opportunities for foodies to enjoy authentic street food in Thailand.
Hidden Gems Bangkok: Things to do off the tourist track
Bangkok offers a wide range of things to do and quiet spots in the city where you can relax and not even believe you're still in one of Southeast Asia's largest cities. Above all, parks, temples and sights around the Chao Phraya River are among these spots. Here are some of my personal hidden gems in Bangkok.
Nature and Parks in Bangkok
Bangkok ist eine Großstadt mit rund 11 Millionen Einwohnern, deshalb wirst du vor allem eines finden, sobald du Bangkok betrittst: Hochhäuser, Plattenbauten und Beton. Entspannung zu finden ist in Bangkok schwer, so möchte man meinen. Doch falsch gedacht! Die Mega-City bietet extrem viele Grünflächen und sogar traumhafte Flussinseln, welche zur Flucht aus dem Großstadttrubel einladen.
Lumphini Park
In the middle of Bangkok there is a little world of its own, far away from the chaos and hectic traffic – Lumphini Park. Do you want to go jogging, pedal boat on the man-made lake, or just escape the everyday life of the city? Then you've come to the right place and can enjoy the unique tranquility and atmosphere of the park. Lumphini Park now charges 100 baht to enter, but I think it's worth paying the price as it's a great option for running or other sports too.
The Green Mile Lumphini
The Green Mile, which very few people know or have even visited, is a 1.4 km long bike route. It leads from Lumphini Park to Benjakiti Park on Sukhumvit Soi 10 past temples, mosques and wooden houses. The city and the busy streets are always there, but there is still a pleasant atmosphere here. The Green Mile is ideal for a walk or jog.
Airplane graveyard in the middle of the city
The airplane graveyard in Bangkok is of course not a classic tourist attraction, but it is definitely a great location for Instagram shots. Strictly speaking, it might even be illegal to enter the premises, in any case, access is at your own risk. Even after intensive research, I was unable to find out why and how the jets got onto the private property in the middle of the city. If you are looking for a little urban adventure away from the usual sights in Bangkok, you could definitely find it here.
Update 11/2022: It seems like the plane graveyard in Bangkok is history. The wrecks have all disappeared, there is only an empty green space on site.
Graffiti Park Bangkok
Street art is becoming more and more popular in Bangkok and there are already plenty spray-painted buildings in many parts of the city that show very impressive motifs. There has even been a street art festival in Bangkok since 2013. Part of it is also to look for the most beautiful street art parks and areas with a special city map. I chose Chalermla Park as it is easy to get to. Just take the BTS to the Ratchathewi station and you've reached the park. The graffiti on site is colorful and makes a good Instagram shot for sure.
Bang Krachao
You may have noticed Bang Krachao when you flew over Bangkok by plane. In the middle of the city there is a huge green area that catches your eye as soon as the approach to Bangkok (Don Mueang Airport) begins. This is Bang Krachao, also known as Phra Phadaeng.
In Bang Krachao you will find, among other things, the Bang Nam Phueng Floating Market, where you can eat very cheaply and also rent bicycles. The Floating Market itself is not a real highlight, but the authentic atmosphere makes it so special, because almost no tourists come here.
A few kilometers southwest of the Floating Market is the Sri Nakhon Khuean Khan Park And Botanical Garden. The park is the green space you see from the air. With the bike, which you can rent at the Floating Market, you can quickly reach the park. Here you can easily spend a day and enjoy nature and tranquility. One of my personal highlights in Bangkok.
Ko Kret
The artificial island is located north of Bangkok and is considered the relaxation oasis par excellence. You can compare Ko Kret with Ban Krachao, but the focus here is on the cultural experience, because Koh Kret is considered the island of potters. It can get quite crowded on weekends, so a weekday visit is recommended.
Unfortunately, getting there is not that easy, as Ko Kret is located outside the center of Nonthaburi. The best way to explore Ko Kret itself is by bike, which you can rent at the entrance. The 5 km route around Ko Kret offers you a lot of green space, a great view of the Chao Phraya River and some beautiful temples and Buddha statues.
Ancient Siam
Just outside of town, in the Samut Prakan region, is a great themed world, Ancient Siam. Famous buildings from all over Thailand were recreated here in miniature form on a huge area. In total you will find over 230 sights on site, including entire replica cities such as Sukhothai.
Besides the many detailed temples, there are also several rivers, lakes and small parks where you can rest and enjoy the day. The entrance fee includes free bicycles or a ride on the train that takes you around the whole park. You can also rent a golf cart (150 baht/hour) and explore the park on your own.
Off to Bangkok Beach
No, that's not a joke, there is beach in / near Bangkok. Although this is anything but nice and swimming is not recommended, almost no tourist gets lost in the area. Is it because of the somewhat complicated journey? Personally, I was traveling with a rental car, so getting there was hassle free.
What I can recommend is the Chulachomklao Fort & Mangrove Walk. Located almost entirely south of Bangkok, Phra Chulachomklao Fort was built in the reign of King Rama V to protect the country from invasion by European countries during the period of colonization. This fortress was used to fight against the enemies in the Franco-Siamese War in 1893 when the Kingdom of Siam faced invasion from two powerful countries; England and France.
Here you can visit a decommissioned warship from the Thai Navy and also visit a restaurant on the water and the mangrove forests. A real Bangkok insider tip!
Temples in Bangkok
Bangkok has countless temples, each more beautiful than the next. Even if many of the temples presented here are really no insider tip, they still belong on the list of every visitor to Bangkok. For those who keep coming back, I have also added a few insider tips that will definitely make it worth visiting again.
Wat Arun
Almost everyone who has ever been to Bangkok knows Wat Arun, also known as the Temple of Dawn. This is not only one of the most popular and most visited temples in Bangkok, but also one of the most beautiful. But many come to Wat Arun during the day and thus miss the real highlight. A insider tip is therefore to visit Wat Arun at sunset. Then the temple lights up in the red colors of the setting sun, which creates a very special atmosphere. When the sun has set, the Wat Arun is also atmospherically illuminated, which results in a dreamlike panorama against the backdrop of the Chao Phraya.
Tip: It is best to watch the sunset at Wat Arun on the opposite side of the river!
Wat Intharawihan
The 11 meter wide and 32 meter high golden Buddha is located not far from Khao San Road and in my opinion belongs to a very beautiful temple complex in Bangkok. Many of the temples in Bangkok are a bit overcrowded, but not Wat Intharawihan, which is one of the few unknown in the city. As Wat Intharawihan is located in the heart of the Old Town, it can also be easily reached on foot from all hotels in the Old Town and around Khao San Road.
Wat Saket
Another spectacular temple in the area around Khao San Road is Wat Saket, which can be seen from afar due to the golden chedi at a height of 79 meters. If you want a nice overview of Bangkok, you first have to climb the 318 steps to the "Golden Mount". Once at the top you have a wonderful view over the city. Wat Saket is not an insider tip, but it is one of my favorite temples in Bangkok. The quiet location and the great view make a visit worthwhile again and again. It is also particularly great to see the temple illuminated majestically at night over the old town of Bangkok.
Wat Pho
Ok I admit it, the Wat Pho is not really one of the hidden gems in Bangkok. The temple, which houses a 45-meter, gilded, reclining Buddha, has achieved worldwide fame. Incidentally, the Wat Pho is considered the oldest temple in Bangkok, which makes it a magnet for tourists and Thais alike. The insider tip on the site, however, is the attached massage school.
In the past, but still today, the art of traditional Thai massage is taught in the Temple of the Reclining Buddha. At Wat Pho you can most likely get the best Thai massage in the entire country or even learn this fine art yourself. This is exactly why Wat Pho has made it into my list of Bangkok's hidden gems!
Bangkok Foodies
Of course there are also countless restaurants and markets in Bangkok, but what really makes Bangkok special are the many street food stalls where you can eat very tasty food for a very reasonable price. I will come back to this later, but for the first time we start with what is probably the tastiest burger in the world!?
Burger art in Bangkok
There is a food truck in Bangkok called Daniel Thaiger that sells amazing burgers. You can check the actual location of this food truck on Daniel Thaiger's Facebook page. I tried the burger myself and yes it's true, these are just incredibly delicious! This example shows once again how varied Thailand and especially Bangkok can be.
The best Pad Thai in Thailand!
Pad Thai is the classic Thai food, especially for tourists. Thais generally rarely eat Pad Thai, and if they do, they only eat do at one spot in Bangkok. There is a restaurant in Bangkok's old town that has the best Pad Thai in the country. Every night around 5pm, when Thip Samai (ผัดไทยทิพย์สมัย) opens its doors in Bangkok, street cooks heat up their woks to serve Pad Thai to hungry diners.
The dishes are freshly prepared in front of the guests and you can watch live how your Pad Thai is prepared. But beware! The Thip Samai is extremely popular and there are often long queues in front of the restaurant. So plan some time. By the way: Thip Samai ONLY serves Pad Thai Goong, i.e. with shrimp, as the original recipe calls for.
Chinatown Street Food
One of my Bangkok insider tips for authentic Thai street food is Chinatown at night. Chinatown is relatively large, but Yaowarat Road is known as the center. Besides some beautiful temples, most visitors come to Chinatown for the good food. Every night there are hundreds of small street restaurants and hawkers lining the sidewalks. Especially recommended is the T&K Seafood Chinatown, where you can get all kinds of Thai seafood.
Night markets in Bangkok
Bangkok is known for its night markets and that's why I love the city. In total, there are over 40 night markets in Bangkok, which are very different from each other. From tourist markets to everyday markets to hipster and vintage markets, Bangkok has it all. But the most important thing is that you can get very tasty and cheap food everywhere.
Those who have never been to Thailand or Southeast Asia find it difficult to imagine visiting a market in Thailand. Here you don't just buy necessary things like in Europe, for example, but eat, drink and have fun. In addition to street food and small restaurants, where you can watch the chefs at work, you will also find many souvenir shops, street artists and live bands that keep visitors entertained. A visit to a market in Bangkok is not only exciting but is a must for every visitor to Thailand.
Talad Rot Fai (Srinagarinda Train Night Market)
Talat Rotfai also known as Train Night Market, is a chain of night markets in Bangkok. Originally, the market was held near the Chatuchak Weekend Market at the State Railway of Thailand compound. However, the market has since moved to Srinagarindra Road, with another branch on Ratchadaphisek Road and a third on Prasoet Manu Kit Road.
The night market is open from Thursday to Sunday. The markets focus on antiques and vintage-style items, particularly clothing and home accessories, as well as a wide range of food and drink. The main market on Srinagarindra Road has been voted the most popular night market in Bangkok.
Siam Gypsy Junction
If you like vintage markets, then the best thing to do is visit the Siam Gypsy Junction Market, probably the best hipster vintage market in town. The market is right next to a railway line, so you can still take a cool snapshot with a train in the background. There are no mass-produced goods on the Siam Gipsy. Almost everything is old or made to look old or self-produced. This is exactly what makes the market so special and sets it apart from the competition.
Lan Luang Market
Located between the old and downtown areas, Lan Luang Market is an extension of the well-known Bobae Market. The Bobae Market is especially known for its cheap clothes. In almost no other market you can dress as cheaply as here. In the evening, around 5 p.m., the market really comes to life and countless food stalls are set up. It's best to come by on an empty stomach, because it's hard to just look and not treat yourself here.
Indy Market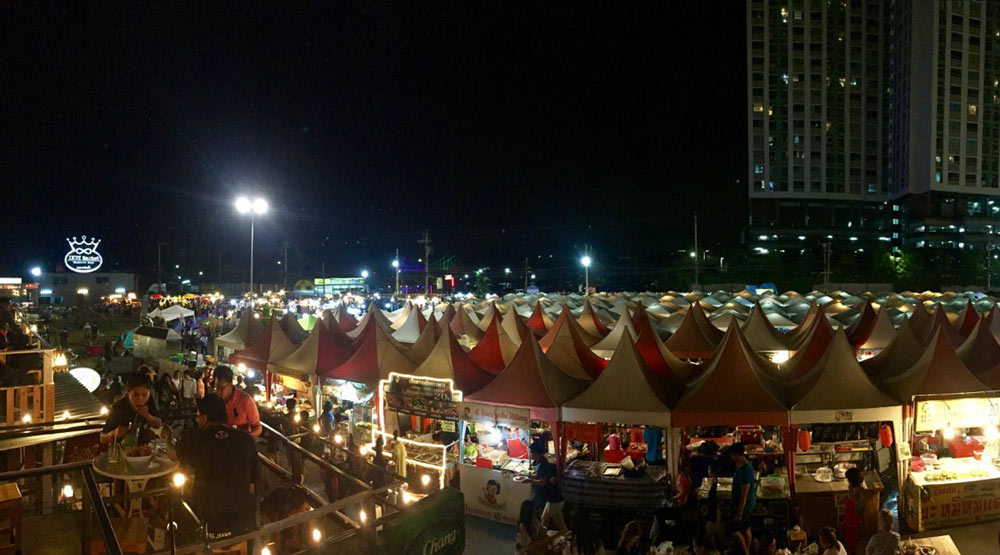 A bit away from the center, in Thonburi, is the newest hipster market, the so-called Indy Market. Here you will find something of everything: lots of food stands, souvenirs, second-hand things and a number of small bars that invite you to linger. Since I lived not far from the Indy Market, I often went there on weekends. At the Indy Market you will mostly find locals, the prices are relaxed and significantly cheaper than in other markets.
Enjoy the evening in a rooftop bar
Bangkok is the city of sky bars. It is therefore advisable to end the evening at a rooftop bar. There are so many rooftop bars that it's not a problem to keep discovering new gems. Personally, I really like Above Eleven Skybar on Sukhumvit Road Soi 11 as it offers a very relaxed atmosphere and is right in the center and also easily accessible by skytrain. Also highly recommended is the Octave Rooftop Lounge and Bar on Sukhumvit Soi 57, located on the rooftop of the Marriot Hotel. A dress code is usually required for rooftop bars in Bangkok, so dress properly.
Bangkok Map
Hidden gems Bangkok Map: I have attached an interactive map with all the sights and spots in Bangkok I mentioned here. I hope you enjoy exploring my insider tips for Bangkok and I would be happy to hear any suggestions about the article or your hidden gems in Bangkok in the comments section!
What are your hidden gems in Bangkok? Leave us a comment below!
---
(Insgesamt 36 Besuche, heute 1)