Things to do in Koh Tao: Sights, Beaches, Viewpoints & Activities: When we first traveled to Koh Tao we were immediately blown away. The small island in the Gulf of Thailand really surprised us and offered a lot more than we imagined in advance. Several trips to Thailand later, we even go so far as to say that Koh Tao is one of the three most beautiful island destinations in Thailand.
Especially the colorful mix makes Koh Tao so unique. In addition to really beautiful, turquoise beaches and bays, impressive viewpoints and a relaxed nightlife, there are a number of opportunities for leisure and vacation activities, especially for backpackers and individual travelers. Even if you want peace and relaxation, Koh Tao is the place to be. There are secluded, very simple beach bungalows, as well as luxurious resorts on private bays.
In this guide we present you the best things to do in Koh Tao. Explore the best sights, beaches, viewpoints and activities on this amazing island. We wish you a lot of fun!
Koh Tao Weather
The climate on Koh Tao is tropically warm all year round and the temperature ranges between 23 and 32 degrees Celsius. The ideal travel time for Koh Tao is from the end of January to May, since statistically there is hardly any rain.
A trip to Koh Tao is also worthwhile in the other months of the year. Ideally, however, it is important to check the weather forecast beforehand, since the island is not nearly as beautiful in bad and cloudy weather as it is in sunshine.
How to Get to Koh Tao
The island of Koh Tao lies far in the Gulf of Thailand and can only be reached by ferry. There are several ways to do this. So you can take a ferry from the mainland from Chumphon and Surat Thani, with Chumphon being closer to Koh Tao. Surat Thani more recommended for arrivals to Koh Samui and Koh Phangan.
In addition, it is of course possible to get to Koh Tao from the neighboring islands of Koh Phangan and Koh Samui. From Bangkok, Lomprayah offers complete tickets on Khao San Road, which include transfer and bus ride to the pier as well as transport by ship. You can also book these in any travel agency or online. So you basically just hop on a minivan in Bangkok and off a ship on Koh Tao. By the way, there are NO ferries that go directly from the port in Bangkok to Koh Tao.
If you want to get to Koh Tao from Surat Thani Airport, you can buy tickets to Koh Tao directly in the arrival hall. There are also many travel agencies on Koh Samui and Koh Phangan that sell tickets for onward travel to Koh Tao.
Normally it is sufficient to reserve the tickets on site a few days in advance. However, since there can be bottlenecks, especially in the high season around Christmas and new year, it is always advisable to book your ferry tickets online well in advance. Visit 12go for bus, train and ferry tickets across Asia. The service has the advantage that you can easily check the timetable and connections. 12go is 100% reputable and usually only a little more expensive, but you have the comfort of a reserved ticket booking and can skip lines at the ticket counters.
Overview of routes and prices for getting to Koh Tao
Koh Samui to Koh Tao (Ferry)
Price: 660 baht (approx. 18$)
Travel time: approx. 1.5-3 hours
–> Book tickets
Koh Phangan to Koh Tao (Ferry)
Price: 590 baht (approx. 16$)
Travel time: approx. 1.5 hours
–> Book tickets
Getting Around Koh Tao
Koh Tao is a very small island, only 7 kilometers long and 5 kilometers wide. That's why it's very easy to get around the island independently. Of course, the best way is by scooter, but it is also super easy to get to your destination on Koh Tao on foot and by bike. Vehicles can be hired anywhere on Koh Tao and don't cost much.
On foot: A short walk is a good option to get to viewpoints or some beaches. This is how you keep fit, don't spend any money and can enjoy the island world 100%. Don't forget to take enough water with you. It can get very hot.
Bike: Mountain bikes can be hired locally from many small shops and cost just a few hundred baht per day. But note that you should have some level of fitness, as Koh Tao has quite a lot of hills.
Scooter / Dirt Bike: Renting a scooter is not a problem on Koh Tao. A scooter costs around 200 baht for 24 hours. Many scooters are already equipped with studded tires because the roads are more like dirt roads. If you are familiar with real motorcycles, you can also rent a small dirt bike. In our opinion, you should definitely have experience in handling motorized two-wheelers if you want to drive on Koh Tao.
Taxi boat: With the longtail boat you can also reach remote bays and beaches without having to drive over bumpy slopes. Snorkeling excursions are also possible with the so called taxi boats. Expect a daily rental of around 2,500 baht including the driver and gasoline. Transfers to nearby bays and beaches are about 200 baht per person and way. Taxi boats are available at every major beach.
Taxi: Taxis are expensive on Koh Tao! The drivers are well aware of their monopoly position and charge extremely high prices for the shortest routes. The price level is significantly higher than in the rest of Thailand or even on other islands. Negotiation is mandatory here, even if it often does not lead to success.
ATV / Quad: Quads have four wheels and give beginners more security. But don't be fooled! The handling is pretty difficult and off-road ATVs like to roll over. Quads range in price from 400-800 baht per day and can also be rented from many places on the island.
During our visit to Koh Tao we had rented a dirt bike. It was great fun to drive around the island and also to take smaller trips into the jungle and on the mountain hills. However, we recommend absolute newcomers to take a bike or just walk.
Koh Tao Hotel Recommendations
On Koh Tao there is a variety of accommodation in every price range. Apart from a few luxury resorts, there are mainly hostels, beach bungalows and guest houses that can be found in large numbers on the island.
In the main town of Mae Haad, where the ferries dock, there are mainly guesthouses and hostels that offer cheap and good accommodation options. At Sairee Beach there are a number of beach bungalows almost directly on the beach. Small resorts and bungalows can also be found on any other bays and beaches on Koh Tao.
Sairee Beach can be considered the main place for tourists, where most of the accommodation can be found. In addition, there is the best infrastructure for tourists and the nightlife is extremely well developed. It feels like the entire backpacker scene is accommodated here. Mae Haad, on the other hand, has a lot less to offer, is quieter but no less rewarding. For example, it only takes you 4 minutes to get to Sairee Beach by scooter, or 15-20 minutes on foot.
The more remote spots like Mango Bay also offer beautiful resorts, as does Hin Wong Bay.
Baan Chalok in the south of the island is another place with quite good infrastructure and plenty of accommodation. There is always something going on here, but it is much quieter than on Sairee Beach. Chalok Bay is recommended for anyone looking for a healthy mix of rest, relaxation and entertainment.
Five star luxury resorts on Koh Tao can be found at Sairee Beach (Overthemoon Luxury Pool Villas) and at Ao Thai Og Bay (Jamahkiri Resort). Otherwise, there are many more 4 star houses distributed all over the island. The Dusit Buncha Resort as well as the Mango Bay Boutique Resort and the Charm Churee Village with 3.5 stars are particularly beautiful.
We ourselves stayed at the Au Aon Guesthouse on Koh Tao and can only warmly recommend this apartment / guesthouse. It is centrally located in the main town of Mae Haad, just a few meters from the ferry terminal. Restaurants, scooter rentals, laundries, etc. are also available in the immediate vicinity. The guest house itself has a pool and clean, spacious rooms with balcony.
If you prefer to stay beachfront in a beach bungalow, which we can understand, then we recommend Sairee Beach, especially as a young person or backpacker. The Koh Tao Cabana and the Palm Leaf Resort are particularly cool.
No matter where you decide to stay, on Koh Tao you can always get anywhere quickly and so the location of the accommodation really only plays a minor role in this case.
Information after Pandemic 2022: Some of the accommodations seem to have just been renovated or have not yet made their capacities available for online booking. According to the booking websites, all of the accommodations we recommend on Koh Tao are still available.
Things to Do in Koh Tao – Viewpoints & Activities
Although Koh Tao does not have a lot of sights to offer, the natural beauties are quite impressive. Above all, the viewpoints on Koh Tao are simply breathtaking and, for us, are among the most beautiful in Thailand. But that's not all. In addition to diving, fishing and snorkeling, a small fitness unit in a local Muay Thai gym, yoga or hiking is always a good idea. We have summarized the best things to do in Koh Tao here: Explore the most beautiful Koh Tao viewpoints and other amazing places.
King Rama Monument
The King Rama Monument is located right on Sairee Beach and is easy to find. However, it is not really a special attraction.
Kuan Yim Shrine
The Kuan Yim Shrine is one of the most worth seeing temples on Koh Tao and is a bit off the beaten track on a hill. Anyone passing by is welcome to make a stop.
Chalok Viewpoint
The Chalok Bay Viewpoint is a small platform with cellphone towers. From there you have a great view of Chalok Bay.
West Coast Viewpoint
The West Coast Viewpoint is another viewpoint on Koh Tao from which you can see the north-west coast and Koh Nang Yuan. The viewpoint can be reached via a road, but the last stretch is a dirt track, which is very hard to ride with a scooter.
Mango Viewpoint
The Mango Viewpoint is THE viewpoint on Koh Tao and one of the most beautiful in Thailand. At the top there are huge rocks and a small bar. The bombastic viewpoint offers a panoramic view of Sairee Beach and is super easy to reach via the dirt road. Local "business people" charge an entrance fee for the viewpoint, you will not be able to avoid paying this.
There are several viewpoints on the hill, but they all offer more or less the same thing. The most beautiful is the Mango Viewpoint.
Nang Yuan Viewpoint
Who does not know this motif? A number of postcard motifs and advertising brochures were created from this viewpoint, which is located on the small neighboring island of Koh Nang Yuan. The way up is on foot through a small forest over several steps and rocks. Entry is 100 baht and at least at lunchtime, the big rock can get crowded. If you can, you should probably arrive to the viewpoint later, since most of the day tourists from Koh Samui will have already left by then.
John Suwan Viewpoint
For us, the John Suwan Viewpoint is definitely one of the 3 most beautiful in Thailand and offers a fascinating view of turquoise water and a dreamlike jungle landscape. The viewpoint is still an insider tip and lies a little bit hidden in the jungle. At the top you are often all alone and can enjoy the view of the tropical paradise undisturbed. Do not miss!
Muay Thai Training
Muay Thai is the national sport in Thailand and of course there is also a Muay Thai Gym on Koh Tao. If you drive the road from Mae Haad to Sairee Beach, you will find a Muay Thai camp on the right-hand side, where you can also just try out some training. The sessions can be paid for individually and take place twice a day. Private lessons are also possible. Generally a very good experience and opportunity to keep fit while on vacation. You don't need any previous knowledge, the teachers are happy to teach you a few basics. Kickboxing professionals can also work out at the highest level.
Koh Tao Snorkeling
Koh Tao is considered a diver's paradise and snorkeling is of course also extremely worthwhile. You can discover the underwater world at almost every bay on Koh Tao. Alternatively, you should hire a local longtail boat, in order to get to more remote snorkleing spots. The drivers will then take you to the most beautiful places around the island. The Japanese Garden at Koh Nang Yuan is particularly beautiful.
Renting a boat privately costs around 2,000 baht for a few hours, group trips can be booked cheaper.
Koh Tao Diving
It is extremely easy to do diving courses or tours on Koh Tao. There are dive centers offering diving tours literally on every corner. If you don't have a diving license yet, it's definitely worth getting this one here. Koh Tao is considered the Mecca for diving beginners and the prices for the courses are also very cheap in global comparison. It is not for nothing that Koh Tao is also called the divers' island. You can book diving tours and courses here.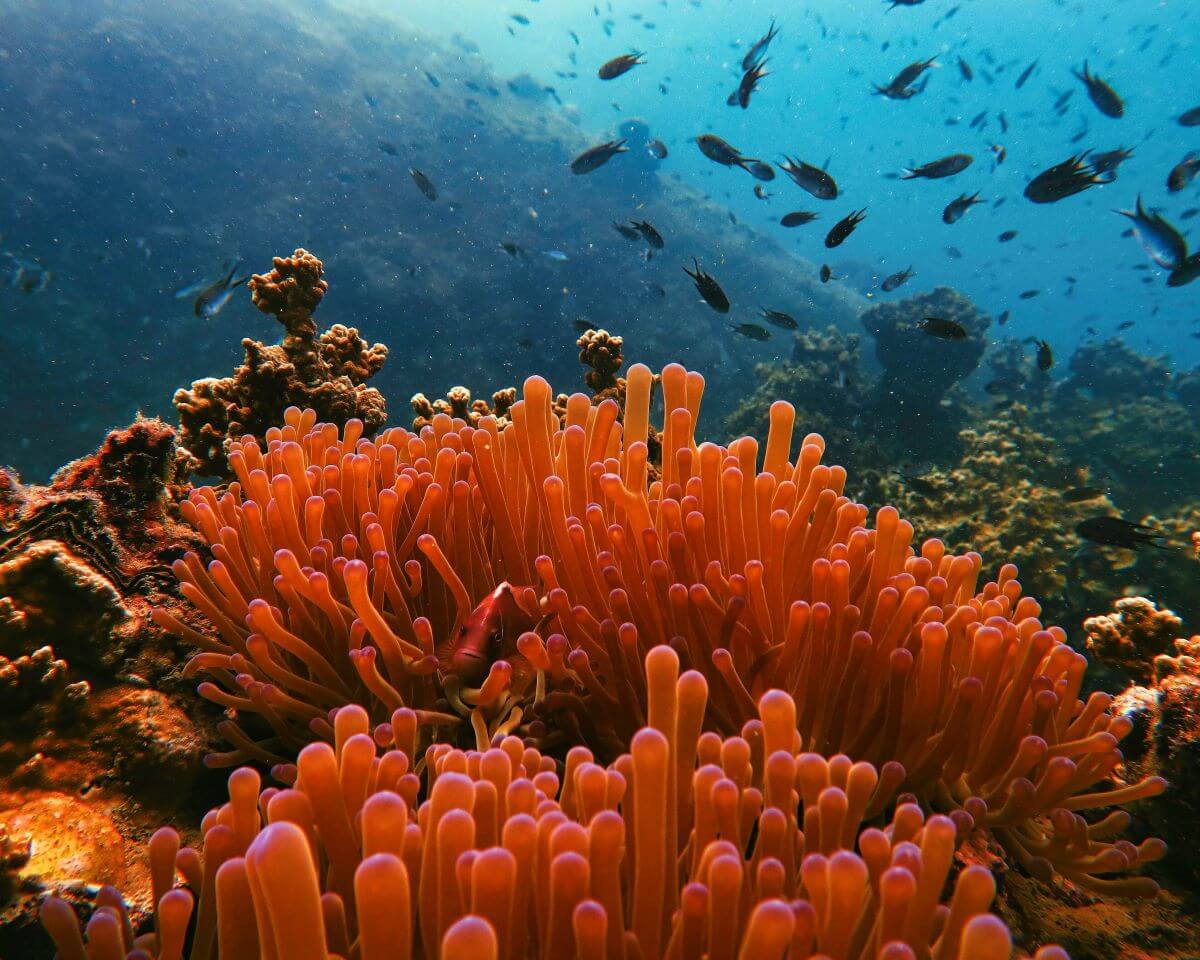 Fishing
Fishing tours and deep sea fishing are also available on Koh Tao. Just get information from one of the countless travel agencies on the island.
Climbing
Active vacationers on Koh Tao also have the opportunity to take a climbing course and climb the beautiful rock formations on the island. In addition to climbing tours in the forest, there are also options directly on the coast, which offer climbers a scenic view.
Daytrip to Nang Yuan Island
Nang Yuan Island is a highlight and is just a stone's throw off the coast of Koh Tao. You can visit the island either by renting a longtail boat, by canoe or as part of a group tour. There is an entrance fee of 100 baht before entering.
On the island you can relax on the small but fine sandy beach and the adjacent sandbank, there is also a restaurant. Swimming in the turquoise shimmering water is pure fun. Don't forget to bring your snorkel, there are also some colorful tropical fish to spot. The way up to the world-famous viewpoint can be reached via wooden footbridges.
Koh Tao Beaches
Hardly any other island in Thailand has such a large selection of beautiful sandy beaches and bays to offer. Koh Tao is the Mecca for snorkelers, divers and sunbathers and is, in our opinion, one of the most scenic destinations in all of Thailand. All about the best beaches in Koh Tao and how to get there, here.
Mae Haad Beach
Mae Haad Beach is the first beach you will encounter when you arrive on Koh Tao and is almost right next to the ferry docks. The small stretch isn't the prettiest beach on Koh Tao but is quite passable. Directly behind it are several hotels and accommodations. Water taxis also depart from Mae Haad Beach to the secluded bays. Even if Mae Haad Beach is not the first choice, it is not bad and better than many other beaches in Thailand.
Sairee Beach
Sairee Beach is the most famous beach on Koh Tao and also the main tourist town on the island. Party tourists and backpackers in particular come here to enjoy life. Sairee Beach has it all! Beach bungalows, bars and a distinctive nightlife. The beach itself is beautiful and invites you to relax, the sunset is magnificent. If you're a bit younger and want to live right in the middle of it all, then Sairee Beach is just the right spot for you, especially since it's also quite beautiful.
Mango Bay
Mango Bay is a popular snorkeling spot on Koh Tao and is best reached by boat as you can avoid the bumpy roads to get there. When the weather and sea conditions are right, the bay shines in wonderful colors and the underwater visibility is very good.
Hin Wong Bay
Hin Wong Bay is also a popular snorkeling spot on Koh Tao and the rocks there are home to a number of sea creatures. If the weather is right, Hin Wong Bay is definitely a great place to explore the underwater world of Koh Tao.
Tanote Bay
Tanote Bay is an ideal place for all those who don't want to go completely off the path, but are also looking for some peace and quiet. Day visitors mainly come to Tanote Bay to sunbathe, but things quiet down again in the evenings.
Aow Leuk Beach
The Aow Leuk Beach is one of the most beautiful beaches on Koh Tao and that is simply due to the harmonious overall picture. Beautiful palm trees, white sand and shimmering turquoise water are the hallmarks of Aow Leuk Beach. You can easily reach Ao Leuk Beach on Koh Tao by scooter or bicycle. Just be careful on the gravel road.
Sai Daeng Beach
There is a lot of construction going on at Sai Daeng Beach and a magnificently located resort is being built on the hill behind the beach. The beach itself is very beautiful and the offshore coral reef is also worth snorkeling.
Haad Tien Bay- Shark Bay
The so-called Shark Bay does not have its name for nothing and so there is a good chance that you will see one of the many harmless reef sharks here. Bring your snorkel and dare to swim with sharks… The beach itself is great for sunbathing and swimming is fun too if you're not scared of sharks.
Taa Toh Yai Beach
Taa Toh Yai Beach is a very beautiful beach and offers great rock formations, a lot of tranquility and crystal clear water, which shimmers emerald green further out. Right on the bay you will also find a relaxed resort with bungalows and you can also get easily to Freedom Beach from here.
Freedom Beach
For a long time, Freedom Beach was considered an insider tip because it was somewhat hidden and could only be reached via a hidden path. Unfortunately, most travelers are now aware of the beautiful sandy beach and so it is now relatively crowded. The small beach offers wonderful palm trees, super clear water, fine sand and a beach bar, which offers a great view of the bay. From Taa Oh Yai Beach there is a small jetty around the rocks directly to Freedom Beach. The journey there is worth a visit in itself. The beach is closed at night.
Chalok Bay
Chalok Bay is a relatively popular stretch of beach and a good infrastructure has developed around the beach. There are many hotels, restaurants and bars, so the place is also suitable for all those who want to escape the hustle and bustle of Sairee Beach and still appreciate some entertainment. Swimming and relaxing at Chalok Bay is a dream as it is not too crowded and has a great ambience.
Sai Nuan Beach
Sai Nuan Beach are two great beach sections, which offer clear water and great rock formations. Snorkeling is particularly recommended here. There is also a beautiful resort on Sai Nuan Beach. Unfortunately, the path to the beach is very bumpy and only recommended for experienced scooter riders.
Koh Tao Nightlilfe
Koh Tao is a very laid back island. Except for Sairee Beach, there is little going on in the evening. But if you want to party, then head to Sairee Beach. In the early evening, travelers from all over the world gather on the beach for a sunset beer. After that, people usually go to one of the many restaurants to head into the nightlife afterwards. At Sairee Beach you will find more than enough opportunities to party until late at night.
Fire shows are performed on the beach itself, otherwise there is party hard in the many bars around town. The ultimate party spot is the Lotus Beach Bar. Every now and then special parties are held on Koh Tao, which are then announced and advertised on posters.
Koh Tao Restaurants
Self-catering is also a breeze on Koh Tao. On every street corner there are small Thai food restaurants, BBQ stands or street food shops where you can eat well and cheaply. We can particularly recommend the authentic Thai cuisine! If you like it a bit more familiar, you can take a closer look at the restaurant "The Whitening" in Mae Haad, where they serve delicious steaks.
The Porto Bello is also a restaurant recommendation and offers delicious Italian cuisine in the tropical ambience of Sairee Beach. If you prefer rustic cuisine for a change, you should definitely drop by Uschi's Taste of Home, where there is a small menu with super delicious dishes. Taste of Home is very popular, especially among expats.
Safety Koh Tao
In general, we would classify Koh Tao as a safe travel destination. Pickpocketing is rare, as is violent assault. From time to time in beach bungalows are targeted by thieves, so always use the safe (preferably at the reception). We consider riding a scooter to be a dangerous activity for inexperienced people, as the bad roads often lead to accidents or damage on the motorbike.
In recent years there have been repeated violent attacks on tourists, sometimes resulting in death. The causes and the course of events have not been clearly clarified to this day. We therefore advise every visitor to avoid dark corners and lonely beaches at night. You should also behave respectfully on site and not provoke bar fights with locals.
Koh Tao Map
On the following map for Koh Tao you will find all listed beaches, sights, hotel tips and restaurants on Koh Tao. With this interactive map of things to do in Koh Tao it should be easy for you to discover the wonderful nature of the island.
A Perfect Day on Koh Tao
So that you don't get overwhelmed by all the information overload, we've put together a small example of a perfect day on Koh Tao for you. Get inspired and enjoy your time in island paradise.
Morning coffee or fruit shake at the roadside or a beach bar
Excursion to John Suwan Viewpoint
Chilling out at Freedom Beach
Muay Thai session
Dinner at a Thai restaurant
Party at Sairee Beach
Have you already been to Koh Tao? What did you like the most? Leave us a comment below!
(Insgesamt 109 Besuche, heute 1)